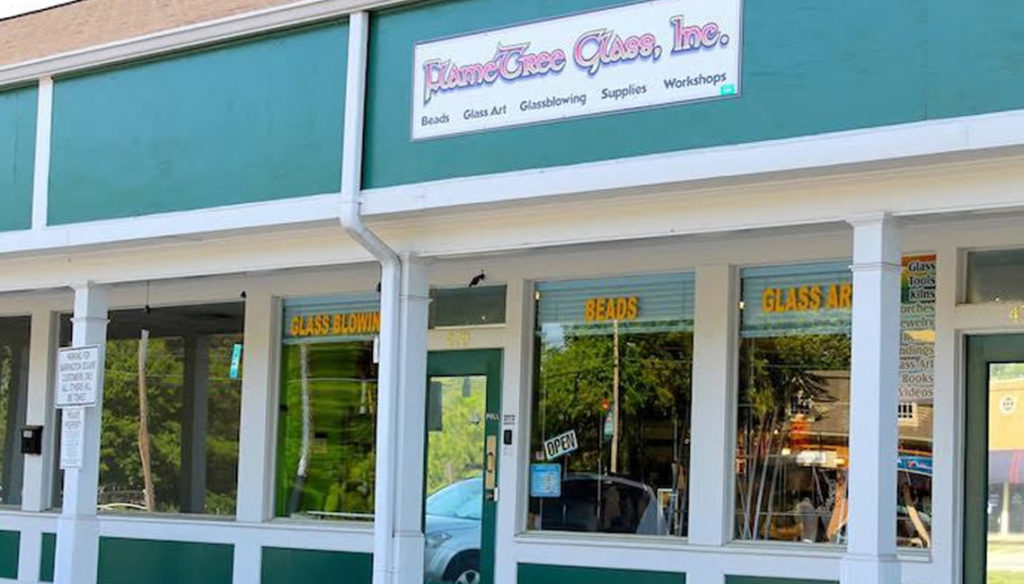 FlameTree Glass, Inc.
FlameTree Glass, Inc is a glass art gallery with a large supply of lampwork beads, unique glass jewelry, findings, crystals and handmade glass art of all kinds. We represent many different glass artisans in our front glass art gallery. FlameTree has it all from beads, pendants, marbles, paperweights, vases, bowls, goblets, glass sculptures, plates and sake sets. We have the best pricing on all of our glass art, jewelry, findings and beads. Our in house glass artisans can custom create anything from wedding goblets to custom jewelry for any special occasion.
FlameTree Glass, Inc is also a glass supply store. We carry a wide variety of soft glass rods including Effetre, Vetrofond, and Messy Color. In borosilicate we carry Northstar, Glass Alchemy, Paramore, Trautman, Borostix and Import color glass rods. We also stock a wide selection of borosilicate clear rod and tube, frits, tools, torches, and other glass blowing supplies.
In addition, we also have a state of the art teaching facility complete with GTT torches, ventilation system, multiple digital computer controlled kilns, and much, much more. From the novice to the advanced student all benefit from taking the myriad of workshops at FlameTree. We bring in internationally celebrated flameworking instructors to offer classes from glass bead making, glass sculpting to glass blowing. Lance McRorie is one of our in house flameworking instructors. He teaches classes in both soft and hard glass, everything from sculpting, encasing, and blowing.
We are located in beautiful Historic Roswell, Georgia. Plan your glassblowing trip now and don't forget to stop by FlameTree Glass on your way!
---